Reflecting on Pubcon Las Vegas: A Conference Worth Attending
Pubcon Proved Itself to be a No-Fluff Conference
I'll admit that I have a love/hate relationship with industry conferences. I love being around bright, like-minded people who clearly have a strong interest for the subject matter. I also love learning–anything and everything–especially when I can apply what I've learned to my team, or even cross-functionally!
However, I can feel slighted or even annoyed when I leave a conference. Sometimes the booklets we receive on the first day, some thicker than the ones I carried around in university, are primarily made up of sponsored ads, and the insights provided are high-level, "Google-able" fluff that I could have put together myself if I had a printer and only 30 minutes of prep time.
So when I attended my first ever Pubcon in Las Vegas earlier this month, I really didn't know what to expect. I had heard positive things about the conference but I still wanted to attend from an unbiased standpoint. Each day started at 8:30am, ran until 5:30pm, and consisted of 10 topically different swimlanes with sessions on Content Marketing, Mobile SEO, Social Influencer Marketing and more.
Want to know how to better rank organically for your content? Check. Care about optimizing PPC advertisements? Sure thing. What about generating more leads for your website? No problem. How about making so much money you can buy your own island to retire on tomorrow? Not available this year, but a guy can dream.
Keynote Speakers Galore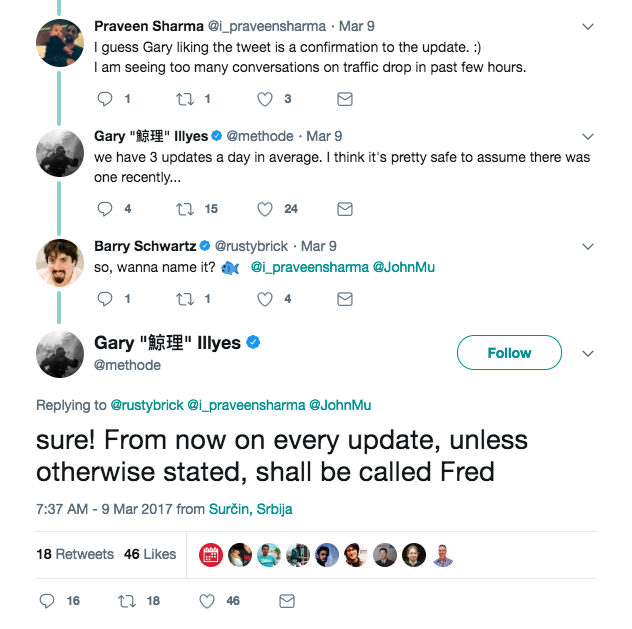 Throughout this learning-first, no-fluff conference, we had opportunities to hear from industry leaders such as Peter Shankman, Tom Hale of SurveyMonkey, Joost de Valk of Yoast, and Gary Illyes of Google. Each person gave interesting insights from their organization, and explained how it might be applied to your own. However, it was apparent that everyone was most interested in what Gary had to say. Gary Illyes, Google's Webmaster Trends Analyst, is regarded as a bit of a pseudo-prophet, and many digital publishers hang by his every word (even if he wishes they wouldn't).
Regardless, I had the opportunity to sit and listen to Gary's morning and afternoon keynotes, and am now here to let you know what we should be on the lookout for when it comes to Google and their ever-dominant search presence.
As mentioned in one of our previous posts, SEO Trends for 2018, voice search is increasing at a rapid rate, especially as we're now starting to interact with new smart devices and their AI personal assistants. In fact, voice search accounts for 20% of all mobile queries on Google. According to Gary, there are plans to make software that'll be deployed on smart devices featuring the option for voice queries on Android TV in the coming future.
The Importance of Featured Snippets
Featured snippets were also a hot topic at PubCon this year, and Gary had some recommendations on this too. If you weren't already aware, a featured snippet, displayed at position 0 on Google, extracts a summarized answer from what Google deems to be the most accurate source in order to satisfy a user's query. If you're a digital content publisher, this is extremely enticing as you don't necessarily have to rank in position 1 in order to showcase your content.
While featured snippets have been around for a few years, Gary mentioned their ranking algorithm to determine the "best" content for the snippet position is continually changing. I sat in a few workshops where the instructors noted they saw many of their posts be bumped into or out of position 0 without ever adjusting the content on their page based on these volatile algorithmic changes.
Google's "Mobile First Index"
Since 2016 Google has been experimenting with a "mobile first index" to better serve the majority of their users who, as you guessed, search primarily on mobile devices. Google currently uses a desktop-first index which satisfies the vast majority of websites. Some publishers are nervous as to what a "mobile first index" means for their search rankings and discoverability. However, Gary doesn't want you to fret; he mentioned during the keynote that if your website's content and markup is responsive across devices, you don't need to sweat.
Gary also mentioned Google is slowly adding more sites to this index, but only those that have the server capacity, coupled with parities from a content and structured data perspective. Since this is still a work in progress, there still isn't have a timeline as to when this index will be rolled out.
The Importance of AMP
Google's AMP (Accelerated Mobile Pages) project was announced in the latter half of 2015. AMP's purpose is to bring faster content and ad results for its users and publishers. Each AMP-enabled page has 3 core, customized components: HTML, JS, and a cache. At Perk Canada we implemented AMP onto our flagship brands starting with Esports Edition back in September 2016.
During one of Gary's Q&A sessions, an audience member raised a question regarding the cost vs. benefit when migrating to AMP, especially as some networks have plans to release faster download speeds in the coming year. Gary acknowledged this and hypothesized that AMP could be irrelevant in five to 10 years for some countries with those faster speeds. But, for other countries with lesser speeds, Gary mentioned AMP's publishing technology will still remain critical in order to access the information they need.
Like any good pseudo-prophet, Gary concluded his keynote by stating that any good publisher shouldn't only be focused on the micro changes that Google may be rolling out with their algorithm, but instead focus on the macros of what's going to improve the results for their users.
Pubcon: An A+ Conference
At the end of my third day at Pubcon Las Vegas, I felt extremely satisfied. I was impressed not only with the quantity of workshops, but also with the quality of each one. Rather than explaining the subject matter at a high-level, each instructor used their own learnings and insights to build the case study they were presenting.
I found I made more notes at this conference than in some of my university lectures. I was also surprised to see just how strong the community was that attended: many of them were there for their 9th, 10th or even 17th time. It reminded me of being at a high school reunion, except everyone actually wanted to talk and reconnect, versus politely making small talk until you finally thought of an excuse to grab some more punch.