Unravelling Inbound 2017: Relationship Advice No Business Thinks They Need
The State of Communicators
At the beginning of the month I ventured to Boston, MA for Inbound 2017, the world's biggest conference devoted to inbound marketing. I was fortunate to hear from a stacked roster of inspiring speakers like Brene Brown, Bozoma Saint John, Piera Gelardi, Rand Fishkin, and a woman who embodies speaking truth to power—former First Lady Michelle Obama.
You may have noticed that we are in some tense and divided times, both online and off, and being a communicator has never felt so persnickety. Toning down language to appeal broadly, sticking to safe topics, ignoring the news cycle more often than embracing it—we've all been extra robotic.
So, it's no surprise that this year's conference themes centred around humanity. More specifically, the value of relationships, and how culture, belonging, empathy, authenticity and vulnerability can facilitate meaningful connections with consumers.
Today's savvy communicators get that businesses are dependent on people and relationships, and to be successful we need to communicate as humans to other humans.  Essentially, developing mutually-beneficial, lasting relationships as a business translates to better retention, reputation and ROI. This is the philosophy behind the inbound methodology.
How Exactly Do We Build Relationships—Aren't We Already Supposed to Be Doing That?
Of course we're already supposed to have the deepest relationships, sexiest products, and most meaningful messages, but if 2017 teaches you one lesson it's this: how the world is supposed to work, and how it actually does, can be lightyears apart—humans are messy.
But messy doesn't mean that businesses shouldn't try, fail and learn. In fact, it's quite the opposite, success is coming from embracing the human condition. By setting a course, staying true and seeking feedback, our brands, products and messages resonate more meaningfully with those who we seek to engage.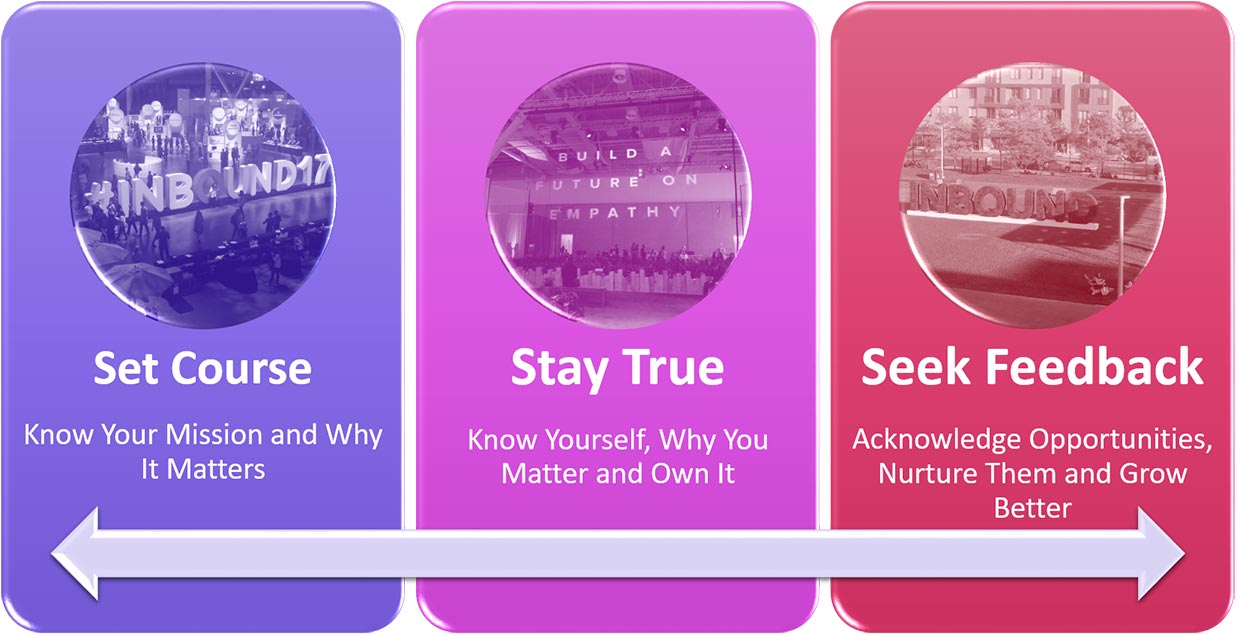 Setting Course: Know Your Mission and Why It Matters

Mission matters. This concept was iterated over and over from speakers across all walks of life. Here's why:
"If people are working hard on a mission they believe in, they call it passion. If people are working hard on a mission they don't believe in, they call that stress." – Brian Halligan, CEO of Hubspot, quoting Simon Sinek.
In the talk below, both Brian and Dharmesh reiterate the value of defining mission, strategic action planning and adapting based on data. Figuring out what the mission is, means we also figure out what the mission isn't. Learn to say no to projects that don't align with the mission. Work on less, striving for quality, not quantity. Your bandwidth is finite, seek activities that yield the greatest impact.
Staying True: Know Yourself, Why You Matter and Own It
To truly know where you're going, you need to know yourself. What's good about your culture, what's great about your brand, what's your unique value proposition as a human being? Piera Gelardi, Co-Founder and Creative Director at Refinery 29, takes us through the process of fearless self-discovery in her talk below, Courageous Creativity.
Unfortunately, owning the discoveries you make about yourself, your brand and your business can be the scariest hurdle between mediocrity and greatness. Michelle Poler speaks about overcoming this fear, and it starts by putting yourself out there, making yourself vulnerable, courageously sharing your truths, your journey, your authentic vision—warts and all.
Bozoma Saint John reminds us that brands are our neighbours, employers, leaders, representatives, and today's customers are earned, not by a blemish free record, but by how brands respond to life's inevitable ups and downs. Do we learn from mistakes, are we providing real value to consumers, are we doing the right thing right? Opening yourself up to those questions can make you vulnerable, but soul seems to be the secret sauce of remarkable brands.
Seeking Feedback: Acknowledge Opportunities, Nurture Them and Grow Better
Now that we've awoke, found our mission and are owing our authentic, awesome selves, we need to take inventory, and check to see how closely outcomes align with outputs – get some feedback.
Brene Brown spoke about brain trusts, emphasizing that seeking and receiving feedback is critical to growth. Adam Grant encourages us to not just welcome feedback, but to seek it out, and get good at receiving it. Don't just measure success, but acknowledge shortcomings, weaknesses and failures and treat them as opportunities to learn, change and grow better.
But, today's hardest problem is not just the message, but the cultural lens—and according to SEO guru Rand Fishkin, it's up to marketers to mind the gap. Rand's talk "Cultural Conditioning is Mucking Up Our Marketing" dives deep into the biases that hinder marketers from genuinely connecting with people.
In the end, powerful growth comes from thinking critically, quantifying strengths and weakness, then moving forward based on diverse insights and feedback.
Onwards, Towards Greatness
The collective emphasis at Inbound2017 was recognizing that we're all human beings trying to fail forward. Doing this in a way that's gracious, bold, unique and genuine is as hard, as it is rewarding.
Savvy businesses see transactions as relationships. When we nurture these relationships through positive, valuable interactions, we create retention. Retention builds reputation, referrals and ROI, creating a virtuous cycle of growth.
Bozoma Saint John, Chief Brands Officer at Uber, sums it up perfectly:
"…Our ancestor's legacy will forever leave a mark where we've been. And I want to leave a mark here, in this time and in this space. I want this place to never be the same once I've sashayed through it."
So ask yourself, once you've sashayed through this place called life, what legacy will you have left behind? If you don't like the answer, set course, stay true and seek feedback—and never be afraid to change for the better.